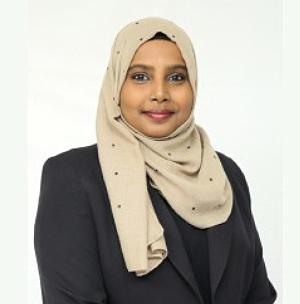 Senior Consultant Speech and Language Pathologist
Brief info
Bachelor's degree in Audiology and Speech Language Pathology from SRM University, India
Licensed by Dubai Health Authority
Licensed with the Rehabilitation Council of India

Ms. Fazilath Shariff is a DHA certified Speech and Language Pathologist with over 10 years of professional experience in the field of speech and hearing. Ms. Fazilath holds a Bachelor's degree in Audiology and Speech Language Pathology from SRM University, India. She is also licensed with the Rehabilitation Council of India. In addition, she is trained in Oral Placement Therapy (Level 2) and a PROMPT certified Speech and Language Therapist. Prior to moving to UAE in 2017, Ms. Fazilath was clinical supervisor for Graduate students of Audiology and Speech Language Pathology at SRM University.
Ms. Fazilath specializes in assessment and treatment of childhood communication disorders with a wide ranging and diverse experience working in school, hospitals and clinics, in varied positions and responsibilities like clinical supervisor, senior speech and language pathologist; she also had a brief stint as the Head of Inclusion in an inclusive school in Dubai. In her professional career of 10 years, she has competently and efficiently handled infants, toddlers, preschoolers, school-aged children and adults with developmental delays and communication disorders.
At SEED Ms. Fazilath supports children with developmental speech/ language delays, articulation and phonological disorders, fluency disorders, voice disorders, apraxia of speech, childhood aphasia, feeding and swallowing difficulties, hearing impairment, Autism Spectrum Disorder, ADHD, Down Syndrome, and other neurodevelopmental disorders. She works closely with parents, special educators, psychologists, and her fellow therapists in providing beneficial therapy and evidence-based interventions approaches to support the individual needs and challenges of each child.
Ms. Fazilath is a compassionate, creative, dedicated, and energetic therapist who finds joy in helping children with special needs.
Qualification: Bachelor's degree in Audiology and Speech Language Pathology from SRM University, India